It has been a busy start to the year at Robin Hood. We have been convening rising leaders in philanthropy, supporting caregivers for young children living in poverty, catalyzing technology solutions for low-income New Yorkers, volunteering in the annual Homeless Outreach Population Estimate Survey, opening applications for high-quality grant trainings, and funding solutions for new migrants arriving in New York City. That and more in this month's edition of Notes From The Field.

The Inaugural Goldman Sachs x Robin Hood Rising Leaders Forum Ignites Enthusiasm Within a New Generation of Philanthropists
This week, more than 300 young investors, philanthropists, and wealth creators came together in Lower Manhattan at the Rising Leaders Forum, presented by Goldman Sachs and Robin Hood, to chart strategies that create and advance social impact. "The forum helped equip the next generation of leaders and innovators with the tools needed to drive sustainable impact by leveraging their power and influence across capital and networks. Building a more inclusive society begins with driving economic empowerment and opportunity for all," said Dina Powell McCormick, Goldman Sachs Global Head of Sustainability and Inclusive Growth and incoming Chair of Robin Hood. The forum included fireside chats with CEOs, entrepreneurs, academics, activists, and athletes–more than 20 speakers in all–as emerging leaders explored Robin Hood's model for impact and approach to advance their philanthropic goals. Read more about the forum and the speakers who participated.

Ten Community-Led Approaches to Child Development Awarded a Quarter of a Million Dollars Each in New Funding from Robin Hood's Fuel for 50
Fuel for 50 is a three-year, $10 million initiative to support the learning and development of young children in poverty through programs focused on caregivers. This month, ten remarkable organizations advanced from the first cohort of 50 to the second phase of the initiative–each organization will receive $250,000 in unrestricted funding to develop and scale its programs. Their programs represent uniquely promising, community-led approaches to promoting child development, connecting support for caregivers, to missions in immigration, housing, mental health, nutrition, and more. "By engaging a diverse cohort of nonprofits, we are expanding the tent of early childhood work and moving closer to a New York City where all children have a fair shot at long-term success," said Kelly Escobar, Ph.D., Director of the Fund for Early Learning. Visit fuelfor50.org to learn more about the ten awardees.

Robin Hood Volunteers Make it Count in Annual Homelessness Survey
Every year, in partnership with the New York City Department of Homeless Services, Robin Hood's community partner Breaking Ground gathers volunteers late into the night for the Homeless Outreach Population Estimate (HOPE) Survey. Participants spread out over the city for several hours late at night to count the number of people experiencing homelessness. The survey results will help the city garner additional federal and state funding to better serve homeless New Yorkers. This year, Robin Hood staff and members of the Robin Hood Forest joined Breaking Ground to help with the late-night headcount. Learn more about Breaking Ground here.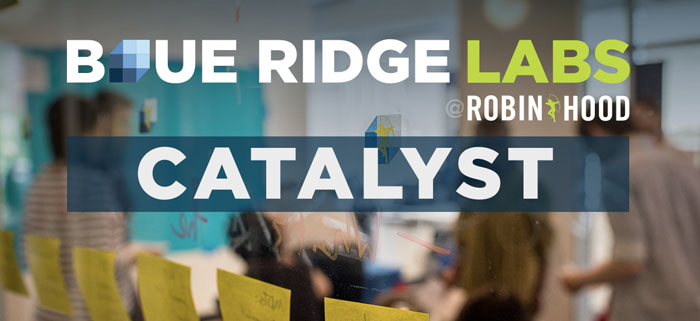 Blue Ridge Labs Catalyzes Tech Solutions for People Living in Poverty
"Effective technology is about responding to needs and solving problems. The needs of people living in poverty can be relentless and oppressive, yet their experiences are often glossed over or ignored," says Sergio Marrero, Managing Director of Blue Ridge Labs at Robin Hood. Blue Ridge Labs engages communities through a co-design process and invests in innovators working to address the needs of those experiencing poverty. This year's Catalyst program has selected four technology-driven ventures addressing routine or extraordinary challenges low-income New Yorkers face: Snappable, ConConnect, Starlight, and Revival. Through Blue Ridge Lab's incubator program, these ventures will help New Yorkers access healthier food at farmers' markets through payment innovations, guide formerly incarcerated individuals to employers and services on a LinkedIn-inspired platform, keep low-income families connected through affordable internet, and give debt-burdened sustainable pathways from financial distress. Learn more about Blue Ridge Labs.

Robin Hood Supports Migrants Arriving in New York City
More than 41,000 asylum-seekers have arrived in New York City since last spring, and 28,000 are now in the care of the city. Often immigrants are ineligible for some or most public benefits, making the asylum crisis in New York City all the more acute. Robin Hood, in its time-tested capacity for relief efforts, quickly supported and mobilized community partners across the boroughs to provide basic needs, health, legal, shelter, and education services to new arrivals. Robin Hood has awarded more than $600,000 in grants to assist asylum seekers. This funding is made possible, in part, with support through the Pershing Square Immigrant Opportunity Fund @ Robin Hood. Building on our Funders Call in October, and in response to the current crisis, Robin Hood joined The Mayor's Fund to Advance New York City and Trinity Church Wall Street earlier this month for an emergency convening of funders across the city to strategize ways to address the immediate and long-term needs of asylum seekers in New York City.

Early-Stage Nonprofits Invited to Apply to Grants Readiness Cohort
Robin Hood's Grant Readiness and Insights Training program (GRIT) has announced it will accept applications from talented leaders in the social service nonprofit sector for its 2023 spring cohort. GRIT provides nonprofit leaders with the tools necessary to develop financial flexibility and strong organizational governance while differentiating their programs and showcasing their impact when seeking funding. GRIT is making New York's nonprofit sector more resilient; over the last seven years, it has enabled more than 80 New York nonprofits to diversify their revenues, helping them to attract more than $12 million in new philanthropic funding. Applications open February 1.

Robin Hood in the News
National Philanthropic Trust: Robin Hood Provides Relief to New Yorkers During Crisis and Beyond
El Diario: Jóvenes de NY buscan enmendar su camino y sus problemas con la justicia de la mano de la organización Exalt
New York Times: Hochul and Adams Envision 'New New York.' Getting There Is the Trick
Crain's New York: Hochul and Adams unveil brain trust's report: The city must reimagine its office districts

SIGN UP FOR NEWS, UPDATES, AND EVENTS BELOW