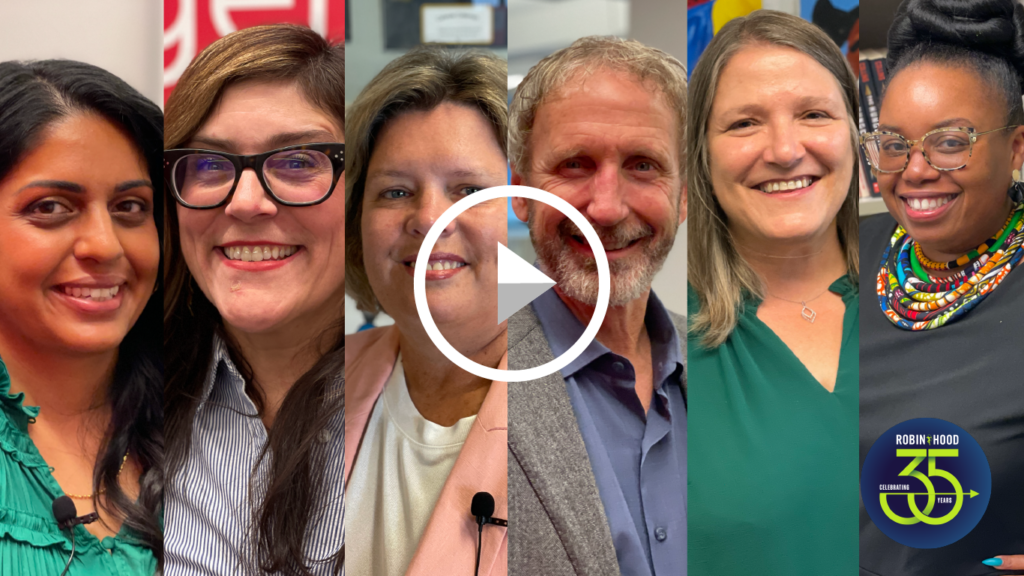 As nearly 900,000 students return to New York City classrooms for the 2023-24 school year, the pandemic's lingering effects on learning continue to cast a shadow over their education, especially for low income students. Schools have grappled with crises and hurdles, from the complexities of reopening during the pandemic to budget battles and capacity issues caused by an influx of families seeking asylum. But this year brings opportunities for hope, and Robin Hood is investing in innovative solutions to help students build core skills and get ahead. 
NYC Reads: A Beacon of Literacy with EL Education
Currently, two in three Black and Latinx students in NYC public schools are not reading proficiently, with a quarter of students living in poverty who do not read proficiently by 3rd grade failing to graduate high school on time. 
"To address the literacy crisis that was plaguing New York City," said Amber Oliver, Managing Director of the Robin Hood Learning + Technology Fund, "the Learning + Technology Fund began working in 2017 to demonstrate the power of high quality curriculum, supported by teacher training, and coupled with effective uses of technology."
In an effort to combat the educational setbacks in literacy caused by the pandemic, NYC Mayor Adams and Public Schools Chancellor Banks have launched a powerful $100 million initiative — NYC Reads. "Literacy is one of the most critical factors in breaking the cycle of poverty," said Chris Caruso, Managing Director of School-Age Children at Robin Hood. "Children who do not learn to read are four times more likely to drop out of high school, are 63 more times likely to be incarcerated. At Robin Hood, we are excited about [NYC Reads] and know it is a step in the right direction." 
The Learning + Technology Fund helped to shape and propel this initiative, funding critical research and supporting the work of community partners like EL Education to bring the science of reading into classrooms. As an innovative curriculum developer, EL Education is renowned for its effective approach to literacy, equipping students with core phonics-based skills that provide a strong foundation and help students gain confidence in their reading skills. 
With Robin Hood's backing, NYC Reads can reach more students and make a substantial impact on their learning journeys. By focusing on literacy, we're helping NYC Public Schools equip students with the essential tools to excel in all areas of their education, preparing them for college and their careers.
High-Impact Tutoring: Bridging the Learning Gap with ExpandED Schools
In the wake of COVID, New York City students fell behind as much as one academic year due to pandemic related learning disruption. Robin Hood immediately invested in high-impact tutoring to get kids back on track. Since the 2022-23 school year, we've been working with our community partner ExpandED Schools to bring this evidence-backed program to more students through a public-private partnership with NYC Public Schools.
High-impact tutoring goes beyond conventional tutoring by addressing the holistic learning needs of students through 1:1 to 1:4 tutoring sessions, providing personalized guidance and support to help students catch up on missed learning opportunities and excel in various subjects. Together, we are combatting instructional loss and supporting students, teachers, and school leaders through high-impact tutoring, a supplemental resource with a proven track record of success.
A Brighter Future for NYC Public School Students
Robin Hood's investments in New York's post-pandemic learning recovery are more than just financial contributions; they represent a commitment to the future of our city's students. By supporting NYC Reads and high-impact tutoring, we're helping to bridge the gap created by the pandemic, ensuring that every student has the opportunity to thrive academically.
As the school year unfolds, it's clear that the collaboration between EL Education, ExpandED Schools, and Robin Hood represents a powerful opportunity for positive change. Together, we are not only addressing the challenges posed by the pandemic but also creating a brighter, more promising future for the students of New York City.