During Women's History Month, we've been sharing inspirational stories of hope from young women and girls in the Bronx who benefited from our four-year partnership with the PepsiCo Foundation. Get to know these stories below. You can also read about our impact in the fight against poverty in our 2022 Annual Report, learn how our investments in the CUNY ACE program are expanding economic mobility, and apply for the Blue Ridge Labs 2023 Fellowship! That and more in this month's edition of Notes from the Field.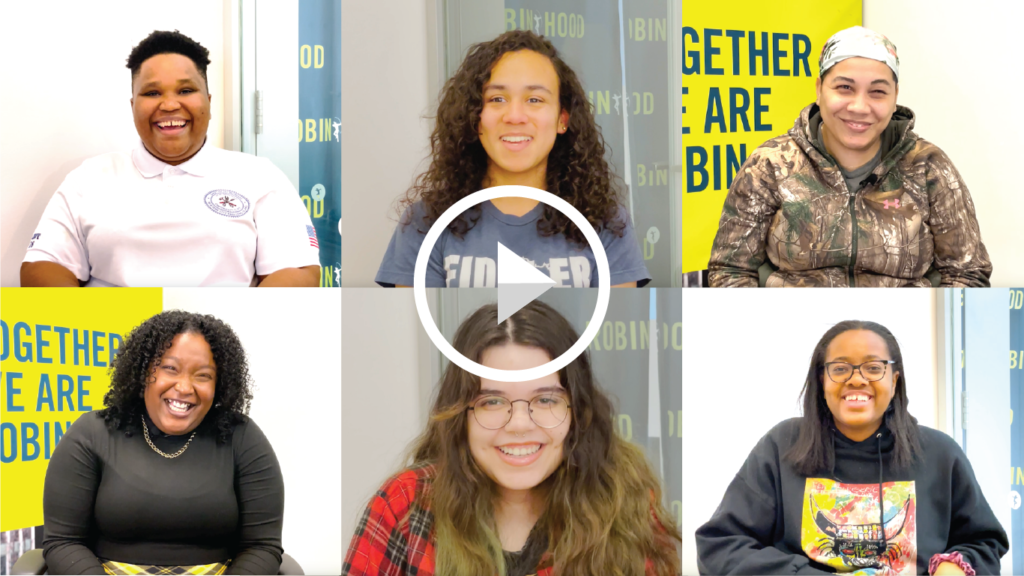 PepsiCo Foundation & Robin Hood Four-Year Partnership Transformed the Lives of More Than 37,000 Young Women from the Bronx
The poverty rate for women in New York City is double the national average, and in the Bronx, home to the city's highest concentration of people living in poverty, 1-in-3 women — more than 220,000 women — lack the resources to support themselves and their families.
In 2018, as part of a global commitment to elevate women and girls out of poverty, the PepsiCo Foundation invested $4 million in a place-based partnership with Robin Hood to provide 20,000 women and girls in the Bronx with education, training, skills, and the tools needed to prepare for careers in the high-paced, high-paying world of tech.
For many, the PepsiCo Foundation/Robin Hood partnership sparked new beginnings and opened pathways to opportunities that are too often denied to low-income women. The partnership enabled 37,700 women in the Bronx to see their futures with a different perspective. We think you should meet some of them.
Here's Why the PepsiCo Foundation Wanted to Partner with Robin Hood in 2018
Watch the interview on MetroFocus.
Learn More About the Impact of the PepsiCo Foundation/Robin Hood Partnership Here
Watch the interview on BronxNet.

Robin Hood Invested $132 Million in Nearly 300 Community Partners Across All Five Boroughs Last Year
At Robin Hood, we believe your starting point in life should not define where you end up. Thanks to the generosity of donors like you, pathways to opportunity and possibilities exist for hundreds of thousands of low-income New Yorkers. Donor support enables us to pursue bold solutions and make smart bets in partnership with the most impactful direct service community organizations and institutions, ensuring that everyone who calls this city home gets a fair shot. Read our 2022 Annual Report to learn how, together, we're building a stronger NYC. Read our Annual Report.
We❤️NYC! Do you?
Watch and read the incredible stories of resilient New Yorkers to learn more about why We❤️NYC! Learn more.

Robin Hood-Funded Study Shows How Effective Expanding Economic Mobility Can Be By Scaling CUNY's ACE Program
A Center for an Urban Future study shows that few student success programs nationally have been as effective as the CUNY program at boosting graduation rates. Thanks to support from donors like you, the program is creating new possibilities and promoting upward mobility for thousands of low-income college students in New York City. The study substantiates why CUNY ACE is a smart bet for New York City and the need for it to be scaled for broader impact. As our Chief Program and Impact Officer, Matt Klein, said to the press:
"The road to New York City's recovery runs through CUNY. It is our city's greatest engine for upward mobility and its ACE program has more than proven its value by continuously increasing graduation rates for the city's lowest income students. Obtaining a college degree is a surefire way out of poverty and that is why Robin Hood considers it one of our smartest investments and why we remain bullish about the program's future. Your starting point in life should not determine where you end up. An investment in ACE pays off — for the students who earn their degrees, and for our city and state, which benefit from these graduates' talent and their contributions to our economy."

Blue Ridge Labs 2023 Fellowship Explores How to Build Healthier Lives for Children Experiencing Poverty
Blue Ridge Labs @ Robin Hood has opened applications for its 2023 Fellowship program, which is dedicated to using technology to build new products that improve the lives of people experiencing poverty. This year's Fellows will explore how to build healthier lives for the 1-in-5 children in NYC experiencing poverty.
Last month, Robin Hood shared our Poverty Tracker Annual Report which documented how the now expired Child Tax Credit reduced overall child poverty in New York City by 30%, and by 68% in New York's 15th Congressional District, including the West and South Bronx. Sadly, the lack of political will to expand and make the tax credit permanent, leaves far too many children at risk of falling back into poverty.
Cutting child poverty in half is an immediate core priority for Robin Hood, and Blue Ridge Labs @ Robin Hood is putting its tech muscle to work in helping achieve this goal through its 2023 Fellowship program. The four-month Fellowship is now accepting applications from experts, engineers, product managers, and designers who want to demonstrate how technology can bridge the gap for children experiencing poverty in healthcare, mental health, food access, and through behavioral outcomes. This year's Fellowship runs from June 26 through October 27. Applications are open until April 14. Apply today.

Robin Hood in the News
CUNY program credited with boosting graduation rates, Gothamist/WNYC
New York's missed opportunities to fight child poverty, The Capitol Pressroom
New York lawmakers consider anti-child poverty measures, Spectrum News 1
LaGuardia's CC digital training program, Campus News
One In Ten New York Households Suffer From Food Insecurity, The Bronx Daily
Hochul and lawmakers urged to address poverty in state budget, NY State of Politics
Making a Down Payment on New York City's Future, GothamGazette
GRIT Program with Suzi Epstein and Kim DiPalo, Nonprofit Lowdown

SIGN UP FOR NEWS, UPDATES, AND EVENTS BELOW